It's pretty easy to find awesome science themed clothes for boys.  There are dinosaurs and robots on clothes in every department store boys section.  Finding clothes with awesome science pictures or messages for girls on the other hand, feels pretty much impossible.  Even for myself, the science t-shirts I have right now are "unisex," which means not quite my style.  Wouldn't it be awesome to have princess dresses with rockets?  Or headbands with molecules?
It turns out there are some geeky mums out there that got fed up with the lack of options for girls and have created their own clothing lines!  Princess Awesome has cool dresses and headbands for girls, including this super cute rocket dress: 
 Seriously, my little girl would love this dress!  They also have scarves for adults, in case you'd like to match 😉
If you'd like some non-Frozen themed  leggings for winter, check out the Apatosaurus leggings over at budding STEM.  They have hair ribbons, t-shirts, dresses and infant onesies as well.  If your future scientist needs more t-shirts, there are lots of options over at A Mighty Girl.
How about an astronomy themed dress with constellations that glow in the dark? Awesome!  Check out this dress from Sewing Circus:
Another handmade super cute option is SecretSquirrel13 on Etsy.  Just look at this adorable chemistry dress!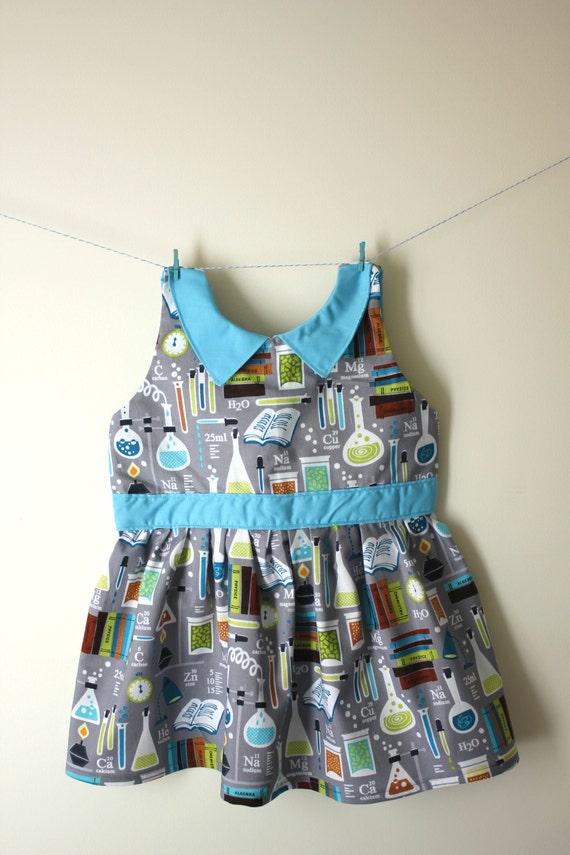 So it turns out there are more options than I could have imagined!  It would be awesome if there were some NZ stores that had similar options, so if you find any please let me know!
Please follow and like us: